Matildas' Prospects Rise as FIFA Enforces Two-Match Suspension on England's Lauren James Ruling Her Out for Potential Semi Final Clash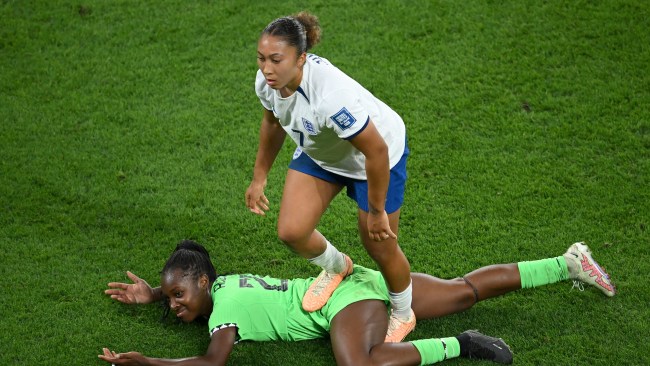 In a significant turn of events, England's prominent player, Lauren James, has been handed a two-match suspension by FIFA. This development has sparked optimism for the Matildas, who, if they advance to the semi-finals, would not have to contend with James in a potential clash against the Lionesses in the FIFA Women's World Cup.
The 21-year-old forward found herself in hot water after receiving a red card for her actions during England's victory over Nigeria via penalties in the round of 16. Her on-field altercation, a stomp on defender Michelle Alozie, led to her suspension.
The absence of their star offensive force will undoubtedly impact England's upcoming quarter-final match against Colombia on Saturday night, with James set to remain sidelined until the final.
Should the Matildas manage to overcome France and the Lionesses proceed to the next stage, Australia's team would gain a substantial advantage by confronting England without their influential attacker in the semi-final.
It's noteworthy that FIFA's disciplinary decision has sparked discussions among fans. Comparisons were drawn to a previous incident involving Nigerian player Deborah Abiodun, who received a red card for a studs-up challenge against Canada's Ashley Lawrence during the group stages. While Abiodun received a three-match ban, leading to her tournament exit, James' punishment raised eyebrows due to perceived inconsistencies.
FIFA categorized James' actions as "serious foul play" rather than "violent conduct," leading to the two-match suspension. This contrasted with Abiodun's incident, which was deemed "violent conduct," leading to her lengthier suspension. The debates over these divergent outcomes have highlighted concerns regarding the consistency of FIFA's decisions.
In response to the incident, Michelle Alozie displayed understanding and sportsmanship by acknowledging that emotions and passion often run high in such high-stakes matches. She expressed respect for Lauren James on the world stage.
Lauren James, the player at the center of the controversy, extended her apologies. She acknowledged her mistake and pledged to learn from the experience, expressing gratitude towards her team, England fans, and the opportunity to represent her nation.
Overall, this turn of events has reshaped the landscape of the FIFA Women's World Cup, injecting new dynamics into the competition as teams like the Matildas recalibrate their strategies in light of James' absence from the crucial semi-final scenario.