Controversy Erupts as Video Shows Dozens of Climbers Passing Dying Man on K2 Summit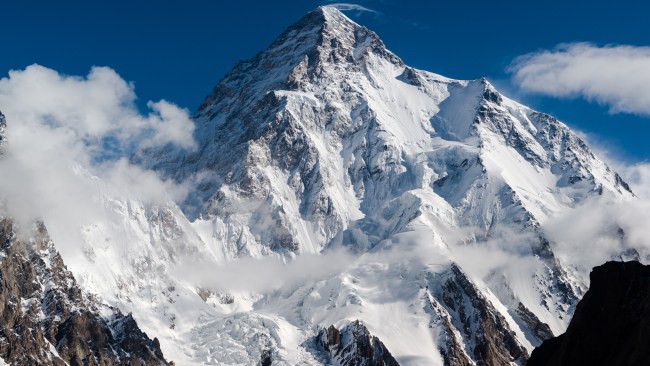 A recent video capturing the unsettling sight of climbers maneuvering past a fellow mountaineer in distress while striving to conquer the perilous heights of K2 has rekindled discussions regarding ethical concerns surrounding high-altitude ascents.
The disconcerting footage was filmed by a drone during a late July expedition to summit K2, the second-highest mountain globally and renowned for its even greater challenges compared to Mount Everest.
The unfortunate incident unfolded as Pakistani porter Muhammad Hassan, reportedly enlisted by the Lela Peak Expedition team, was assigned to assist the rope-fixing crew during the final ascent of the towering 8,611-meter peak.
Despite his limited experience, as revealed by his widow, Hassan had previously only served as a porter to K2's base camp. However, he had shouldered the responsibility of working on the upper slopes to raise funds for his ailing mother's medical treatments.
Tragedy struck when Hassan plummeted while in the process of establishing ropes for incoming climbers along the treacherous single-file path known as the Bottleneck. This accident left him suspended upside down between two ice anchors, with reports indicating that his oxygen mask was also damaged.
Numerous climbers present during the incident stated that Hassan succumbed shortly after being assisted back onto the path. In contrast, Austrian mountaineer Philip Flämig, responsible for capturing the controversial drone video, disputes this narrative.
Flämig, in an interview with Austrian publication Der Standard, stated, "It wasn't an abrupt passing. The porter was still exhibiting signs of movement even three hours after the mishap."
He further added, "For a considerable duration, this individual remained alive while approximately 50 climbers continued their ascent past him."
Flämig has voiced severe criticism against those mountaineers who proceeded without stopping to render aid to Hassan. The drone footage portrays numerous climbers navigating over the body of the Pakistani porter.
Among those climbers featured in the footage is Norwegian mountaineer Kristin Harila. Her successful summit on the same day garnered worldwide attention as she set a record for the swiftest completion of scaling the planet's 14 highest peaks.
Multiple other climbers were simultaneously pursuing records alongside Harila, fostering a sense of intense competition during the summit endeavor. The culmination of this rush resulted in celebrations at the base camp subsequent to Harila's triumphant K2 ascent, according to Flämig.
"I abstained from attending; the situation appalled me," he expressed. "A life was lost up there."
This incident has rekindled deliberations on the ethics and moral obligations tied to mountaineering, urging a deeper reflection on the priorities upheld in extreme altitude pursuits.